ORIOR Strategy 2025
The ORIOR Vision: We are striving for uniqueness and offering best quality in order to surprise our consumers time and again with enjoyable food moments. Our ambition is nothing less than: Excellence in Food.
ORI­OR's de­cen­tralised busi­ness model al­lows each com­pe­tence cen­tre to main­tain their spe­cific cul­ture and iden­tity tai­lored to their em­ploy­ees and cus­tomers and to cre­ate unique prod­uct, brand and con­cept worlds. These high lev­els of iden­ti­fi­ca­tion and per­sonal re­spon­si­bil­ity at the com­pe­tence cen­tres com­bined with strate­gic de­vel­op­ment and di­rec­tion­set­ting at Group level make us re­silient and unique. The ORIOR Strat­egy 2025 is built around five strate­gic pil­lars. Ad­di­tional, shared po­ten­tial will be un­locked by the three Group-wide key strate­gic ini­tia­tives. Steady value cre­ation for all stake­hold­ers re­mains our goal and am­bi­tion.
In au­tumn 2020, ORIOR pre­sented its strate­gic road map for the next five years. The ORIOR 2025 Strat­egy marks the evo­lu­tion of the pre­vi­ous, suc­cess­ful strat­egy and is also char­ac­terised by the Group­wide ini­tia­tive, "ORIOR New Nor­mal". The pre­vi­ous strate­gic pil­lars were honed in terms of con­tent and more broadly un­der­pinned by the in­volve­ment of in-house teams of spe­cial­ists. In­puts were also given by se­nior staff and spe­cial­ists from through­out the Group in the course of in­ter­ac­tive work­shops. This com­mon un­der­stand­ing of the way for­ward pro­vides a firm foun­da­tion for the suc­cess­ful im­ple­men­ta­tion of the ORIOR 2025 Strat­egy.
Strate­gic pil­lars
In­no­va­tion is firmly an­chored in our cor­po­rate cul­ture. In­spired by trends, our un­der­stand­ing and feel for the mar­ket, and the pas­sion we have for our culi­nary craft and tra­di­tions, we cre­ate de­li­ciously unique ex­pe­ri­ences for all our con­sumers with joy and pride.
We view our­selves as a cre­ative work­shop for our brands, prod­ucts and ser­vices, and we are con­stantly de­vel­op­ing culi­nary worlds for our own brands and the brands of our cus­tomers. That and our pas­sion for what we do is how we de­light con­sumers time and again.
We are work­ing hand in hand to fur­ther strengthen the fi­nan­cial and op­er­a­tional foun­da­tions of the Group. Our de­cen­tralised busi­ness model keeps us close to the mar­ket. At the same time, the Group's broad port­fo­lio en­ables us to cap­ture value cre­ation syn­er­gies be­tween the com­pe­tence cen­tres and share know-how.
Sus­tain­able busi­ness prac­tices form the ba­sis for Ex­cel­lence in Food. Every day we strive to im­prove our per­for­mance across the en­tire value chain in keep­ing with our clearly for­mu­lated sus­tain­abil­ity strat­egy and the ob­jec­tives con­tained therein.
"We are ORIOR" is based on com­mon cor­po­rate val­ues, open and di­rect com­mu­ni­ca­tion, and eth­i­cal and re­spect­ful busi­ness con­duct. We sup­port and pro­mote cul­tural di­ver­sity, and we pro­vide our em­ploy­ees with op­por­tu­ni­ties for growth and de­vel­op­ment in their day-to-day work.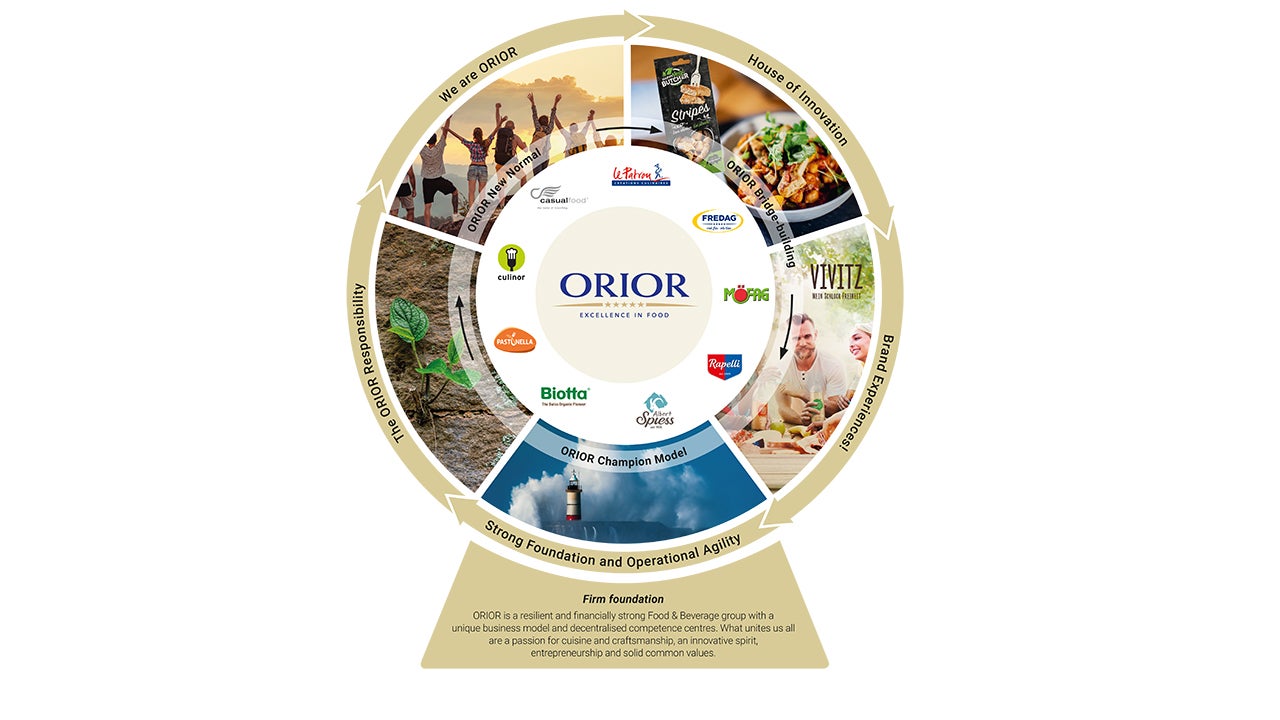 Key strate­gic ini­tia­tives
The in­tradis­ci­pli­nary Cham­pion Model is a net­work for knowl­edge trans­fer and staff de­vel­op­ment that brings to­gether spe­cial­ists from dif­fer­ent com­pe­tence cen­tres. This ex­change of ex­per­tise and ex­pe­ri­ence acts as a cat­a­lyst for cre­at­ing value added across the Group.
ORIOR Bridge-build­ing com­prises di­rect links be­tween spe­cific units or seg­ments on a sit­u­a­tional ba­sis. The ob­jec­tive of our bridge-build­ing ef­forts is to cap­ture new sales po­ten­tial by ex­pand­ing suc­cess­ful ex­ist­ing prod­uct con­cepts, brands or spe­cialised ex­per­tise to en­com­pass other busi­ness units.
ORIOR New Nor­mal refers to ac­tiv­i­ties that are high on our list of pri­or­i­ties. This is our in­stru­ment for ad­dress­ing new op­por­tu­ni­ties in a struc­tured, sys­tem­atic and fo­cused man­ner and for gen­er­at­ing value added.